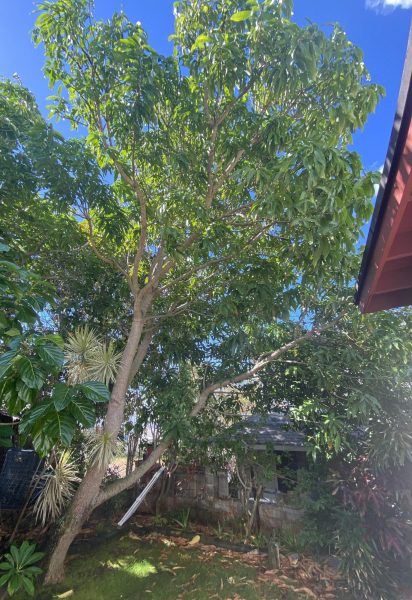 While many invasive plant species are ravaging the native ecosystems of Hawaii, some introduced plants have taken root and grown into valuable parts of Hawaiian culture and community. One such plant is the mango tree.
Mangoes were introduced to the islands in the early 19th century by Spanish horticulturist Don Francisco de Paul Marin, according to the Hawaii Agricultural Experiment Station. Since then, mangoes have thrived across the archipelago.
"I was born into it, you know. I always thought that people live on property and that you put fruit trees on your property and then you just benefit from that fruit," said Mark Suiso, owner of a local farm called Makaha Mangoes. "As long as you put a fruit tree in your yard, you're blessed."
Mango trees grow all across the island of Oahu. The subtropical climate of the island's coastal and partially mountainous zones are the perfect environment for mango production, according to a report in Scientia
Horticulturae, and they have two distinct seasons: A cooler rainy season and a warmer dry season. The trees store nutrients and grow during the wet season until a dry spell initiates the flowering cycle. Oahu usually experiences massive mango blooms between the months of May and October, meaning there are only a few weeks left this year to find them hanging around.
"We were getting mangoes by the bucket," mango tree owner Eric Biggs said. "I mean it was actually raining mangoes on my bedroom roof."
These blooms often produce so many mangoes that tree owners, such as Biggs, are unable to eat all of the ripe fruit. Extra mangoes need to be shared or they will go to waste. As tree owners deliver baskets of mangoes to friends, family, and neighbors, Biggs said, the surplus of fruit helps spread kindness and build community throughout the island.
"I mean, it's just, it's kind of part of Hawaii's culture," mango tree owner Steve Jackson said. "If you have more than you need you share, you don't let it go to waste. … It's a good way for people to come together, you know, like when it's peak season you're telling your friends please come over, and then it gives you an excuse to talk a little bit and have a beer."
With the state's abundance of natural resources, ranging from fish and seafood to taro and fruits, Suiso of the Makaha Mangoes farm, said he thinks mangoes are just one example of how living off the land and sharing what you have can create close-knit and food-secure communities.
"In the old Hawaiian days, they would always trade," Suiso said. "The guys up in the valleys would trade with the guys down along the shoreline, and that's kind of a nice way to look at things."
Suiso has been disappointed in the disconnect between much of the island's population and current food-sourcing practices, he said.
"Food comes from us, we create, and we develop food," Suiso said. "We've gotten too far removed from our food sources."
The long periods of storage needed to import and sell food at large grocery stores have dehumanized the food production process, Suiso said, as well as decreased the quality of food sold. This is particularly evident within the fresh fruit industry, he said, as produce is being picked before it has ripened to its full flavor and nutritional value. Because of this issue, Suiso said he strongly supports backyard cultivation of fruit trees, such as mangoes, and thinks eating neighborhood fruits is a great way to take a step back from corporate food-sourcing systems and begin to eat and live healthier.
"It grounds you," Suiso said. "The world can go crazy, but if you have fruit trees in your yard, you just don't care, you're in great shape. You have no soul, if you don't have fruit trees in your yard is sort of my attitude. And there's a lot of soulless individuals out there in this world."